Eyoyo Portable Underwater Fishing Camera, 5' Video Fish Finder w/Depth Temperature Direction Electricity Display + DVR + HD 1000TVL Camera + Infrared&White LEDs for Ice Lake Boat Fishing 15m
(SKU:ZB0605MG)
Important Tips
Please download the third-party player KM, VLC for video playback.
Please wipe the lens clean after use. Don't leave any water stains.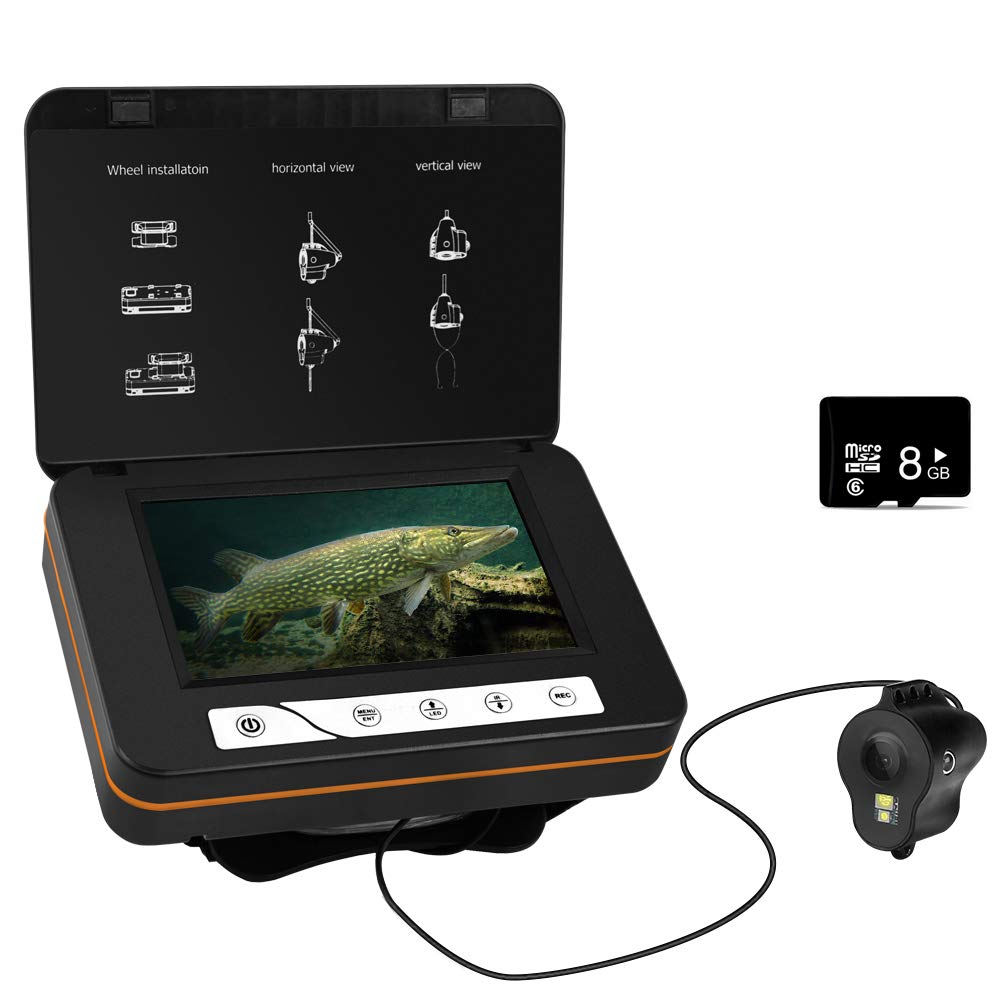 Features:
1.5 inch LCD Monitor; Resolution: 800*480
2. With Record and Photo Function.
3. With temperature display function, it can display the underwater temperature.
4. With depth display, the depth of the camera launched can be displayed.
5. With direction display function, which can display camera orientation.
6. Infrared white light integrated system, free to switch. Two high-power high-bright white lights, adjustable three-gears light, switchable, four high-intensity infrared lights, adjustable three-gear light, switchable.
7. With a large capacity rechargeable battery.
8. 5V charger, which can use as power source.
9. HD high resolution camera.
10. Camera with wide angle.
11. Using the special diameter 1.88mm cable, waterproof, anti-corrosion and pull-resistant.
12. The camera can be horizontal or vertical directions to watch.
13. TFT color monitor with sun-visor for bright environment outside.
14. the monitor can be worn on the hands, also can be fixed on the fishing rod.
15. Deeply waterproof function: professional sealed waterproofing process; waterproof grade: IP68
16. It was specially designed for underwater activities such as sea bottom exploration, ocean fishing and ice fishing, well inspection, etc.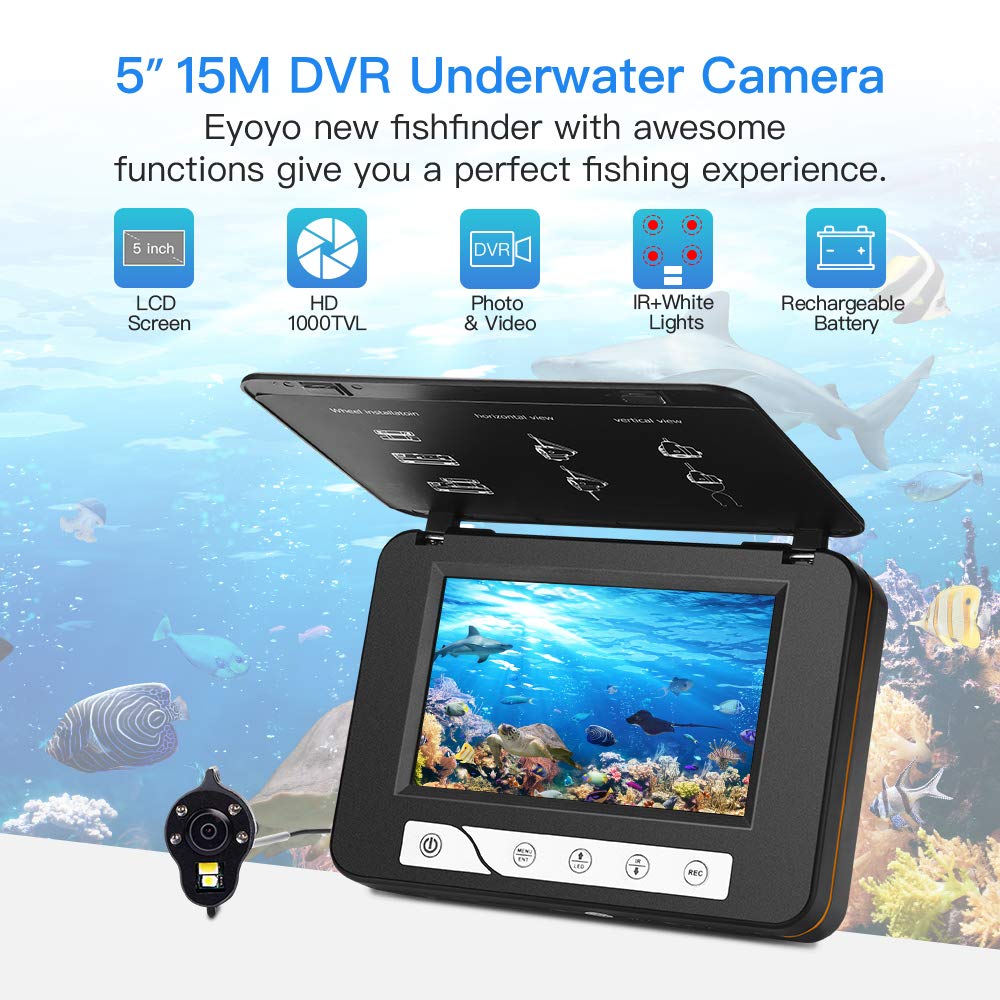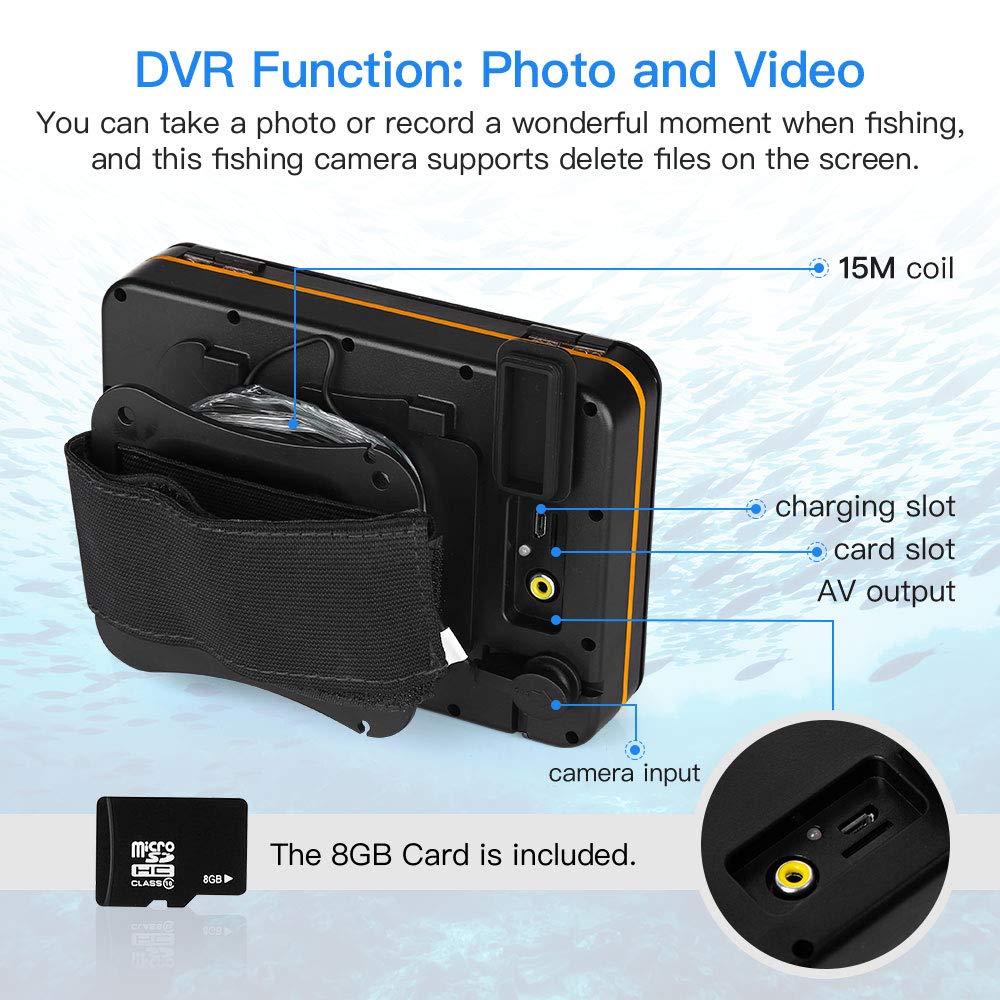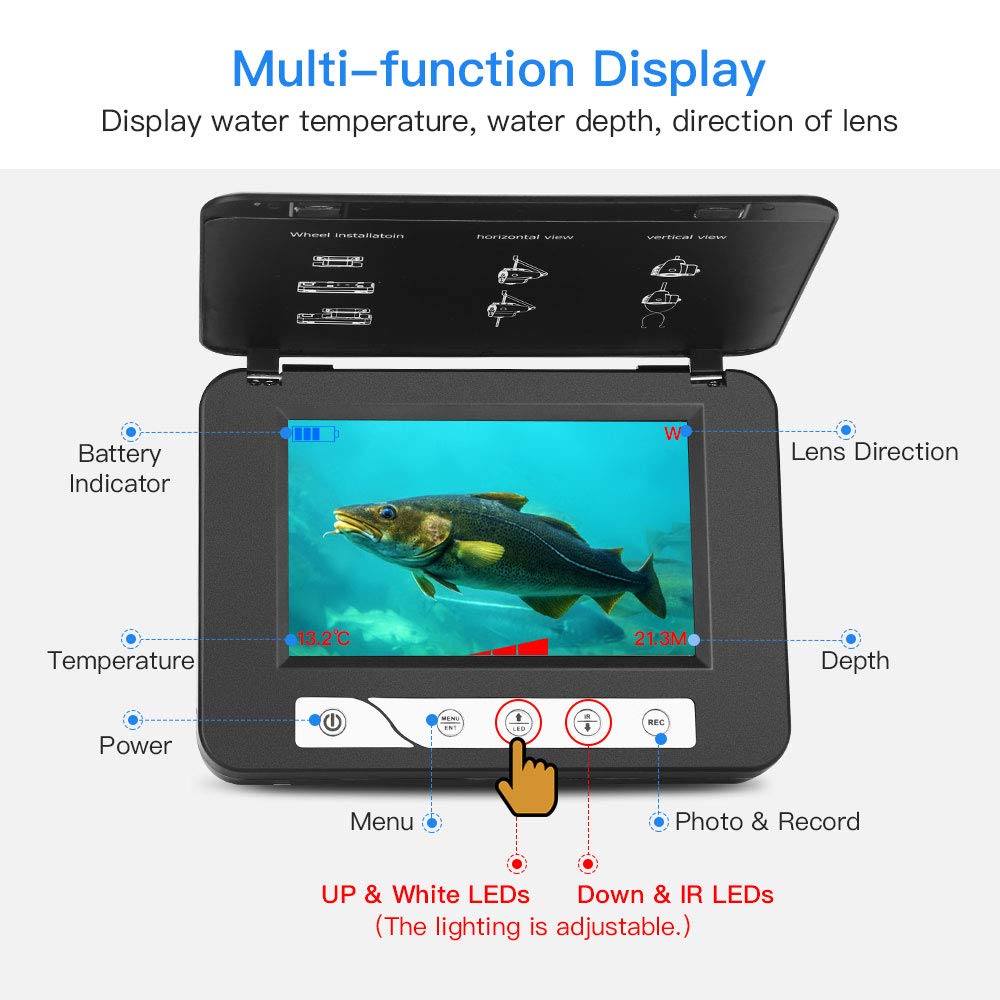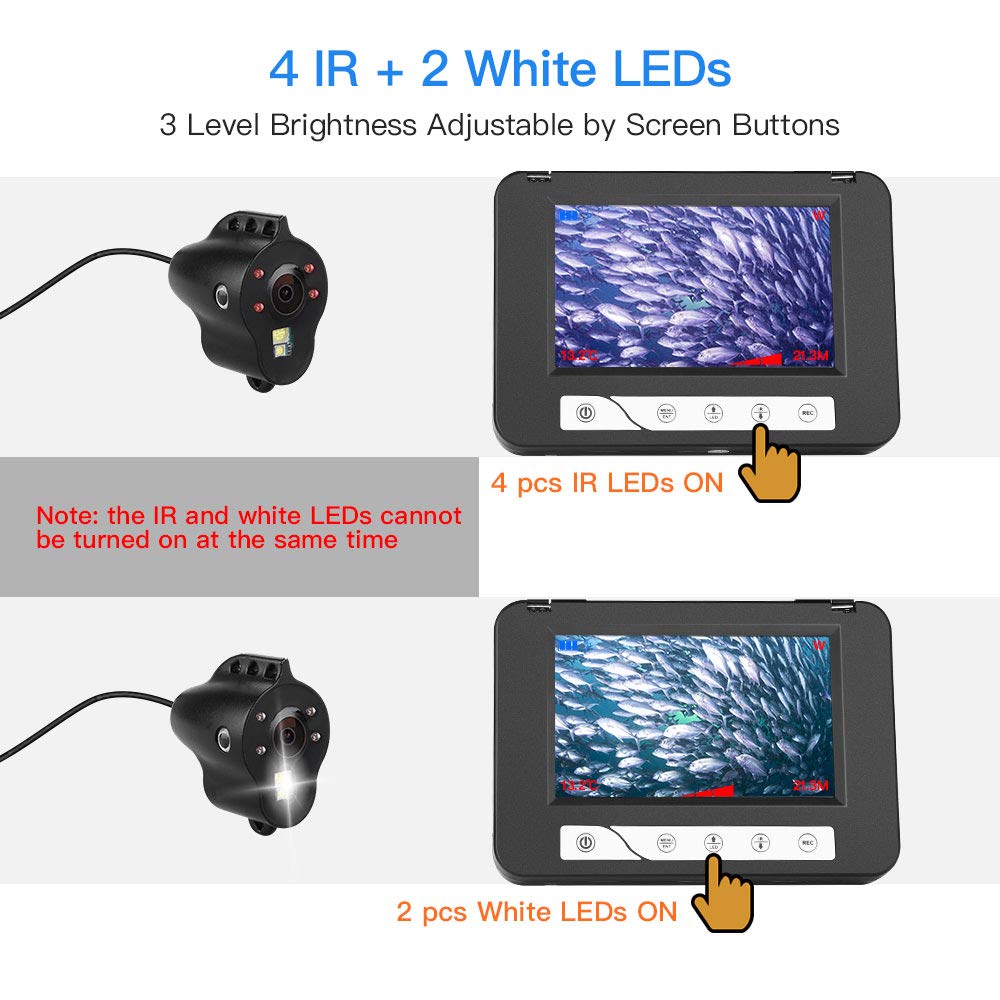 Specifications:
Brand: Eyoyo
Charger:DC5V
Display: HD 5-inch display 800x480
Monitor: input voltageDC 5V
Angle: 130° Wide angle
Cable Length: 15m
Wire diameter: 1.8MM
Night lights: white/infrared integrated camera
Resolution: High Definition
Work Temperature: -20--60 degree
Storage Temperature: -30--80 degree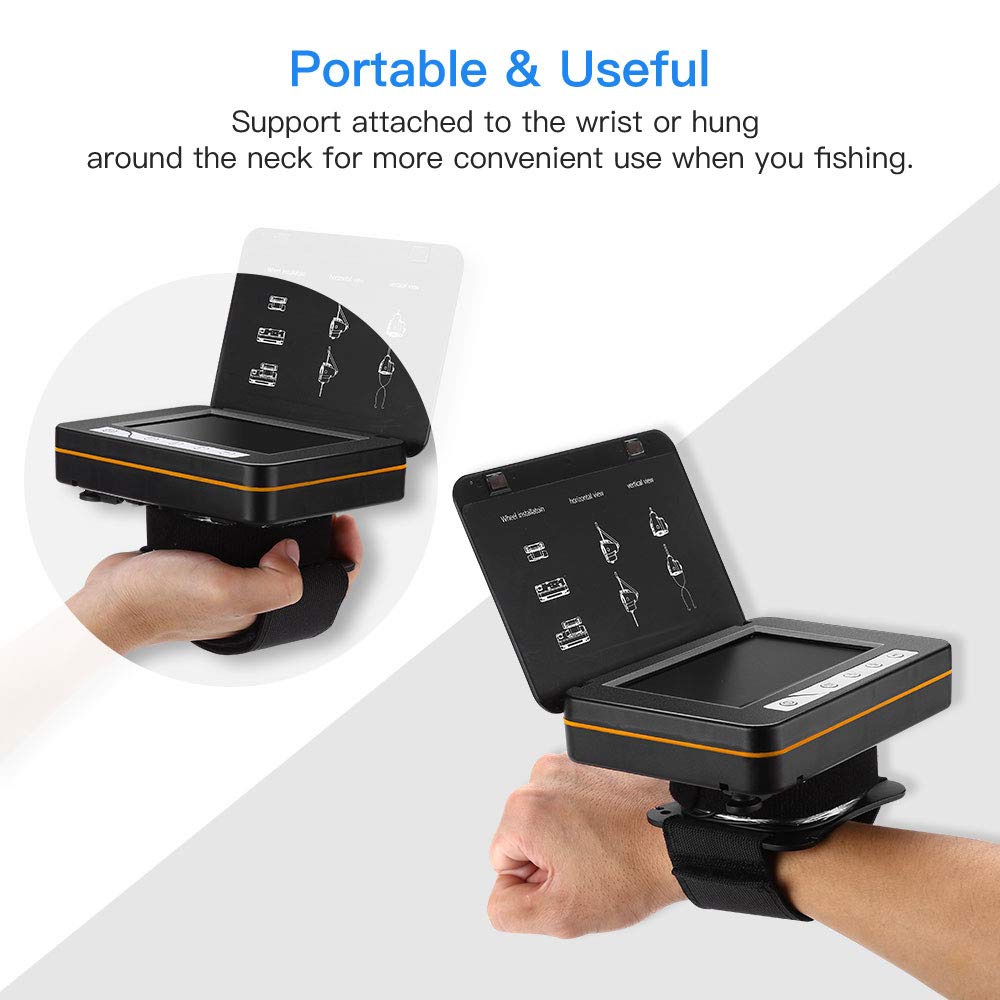 Package:
1x Eyoyo 5" fish finder
1x 5V USB cable
1xPower adapter
1x Bag
5x Accessories
1x Manual